Campus Daily Life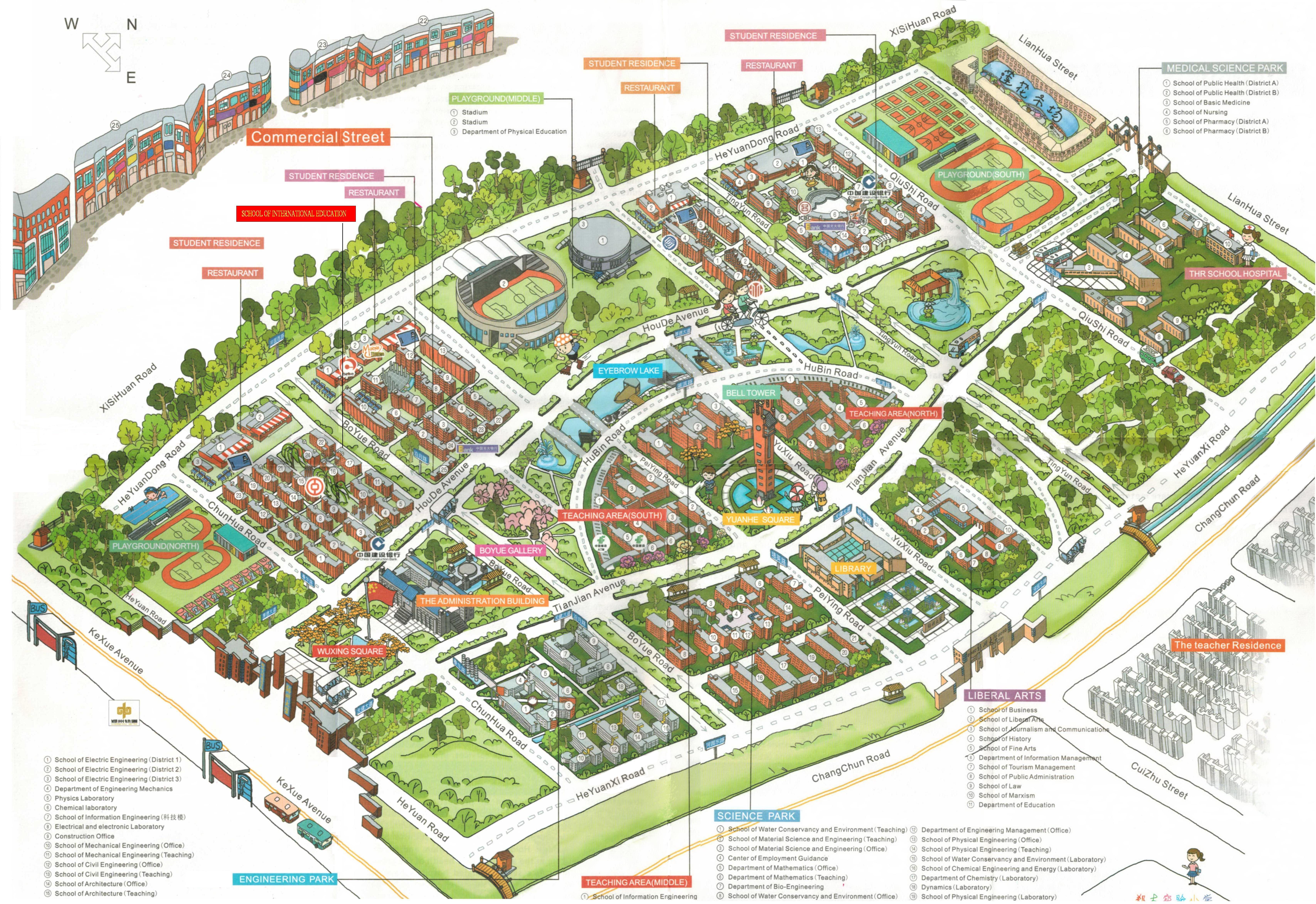 Money and Bank
There are three names for China's currency: Ren Min Bi (RMB) is the formal name, Yuan (元) is the normal name, and Kuai (块) is the informal name. In everyday life, "Yuan" and "Kuai" are both very common ways to refer to money. Yuan/Kuai comes in smaller denominations as well. 10 Jiao (角) make up 1 Yuan/Kuai, similar to a dime. In spoken language, (as opposed to written) a Jiao is called a Mao (毛). Ten Fen (分) make up one Jiao/Mao, similar to a penny. Paper Notes - include 1 Yuan, 2 Yuan (rarely found), 5 Yuan, 10 Yuan, 50 Yuan, 100 Yuan, 1 Mao, 2 Mao (rarely found), and 5 Mao. Paper notes of 1 Fen, 2 Fen, and 5 Fen are also printed but rarely found. 100 Yuan is the largest note printed, and the size of paper notes decrease with the value. Coins - are found in the following denominations: 1 Yuan, 5 Mao, 1 Mao, 5 Fen, 2 Fen, and 1 Fen. Renminbi (RMB) is the formal term that encompasses all monetary denominations in China.
Fake bills are found throughout China, but are becoming rarer. To minimize your chances of receiving a fake bill, you should get change for 100 Yuan notes in legitimate stores, and use smaller change when buying from a street vendor or taking a cab. In the case that you have to use a 100 RMB bill in a less-formal setting, you should feel each bill that you receive to check their genuineness (fake bills usually feel like regular paper).
a. Changing Money
There are many places to change money in the Zhengzhou. There is no need to shop around for the best rates because they are uniform throughout China. Make sure that you bring your passport because it is required when you change money at a bank (for all transactions at a bank, you must have your passport). Not all banks change traveler's checks.
b. ATMs
ATM's are found throughout the District and only some accept all foreign-issued credit and debit cards. ATM's only dispense RMB, and there is maximum amount of cash withdrawal allowed per day. When a foreign-issued card is inserted into an ATM that does not accept foreign cards, the machine may keep the card (this is very rare). When this happens, a request must be made to bank personnel for retrieval of the card. Your passport needs to be presented for purpose of identification. When the ATM is not directly connected to a bank (although they usually are) the location of the ATM and bank name must be noted so the bank can be contacted afterwards for retrieval of the card.
c. Credit Cards
Although internationally issued credit cards are accepted in Zhengzhou, they are accepted at a limited number of establishments, mostly better hotels and selected restaurants, malls, and shops. The most frequently accepted credit cards are Visa and Master Card. The predominant mode of payment in most parts of Zhengzhou is still cash.
d. Opening a Bank Account
There is no minimum deposit in Zhengzhou for opening a savings or a checking account. Your passport must be presented to the bank when opening a bank account. Bank of China is highly recommended as in case of remittances from abroad, this bank has the fastest processing and shortest lead-time. If you would like assistance with opening a bank account in China, ZZU will be happy to help you. Please be aware that some international banks require that you set up wire transfers in person. So if you are planning to wire money to a new account in China, please verify any restrictions with your home bank before you arrive in China.
There are a number of banks providing their automatic services on each campus, which can satisfy the majority of students' need. For any other services, students can visit the neighbor bank with personal service.
A). Bank of China, New Developing Zone Branch. No.87 Ruida Road, New Developing Zone, Zhengzhou. Tel: 0371-67981565
B). Industrial and Commercial Bank of China, New Developing Zone Branch. No.15 Jinsuo road,High-Technology Zone, Tel: 0371- 67982336.
Post office and Mail
All ZZU students are able to have their mail sent the school address for ease of delivery. Students can collect their mail from the ZZU reception area. Both packages and regular mail will be accepted for you. The address of School of International Education is:
School of International
Building 17 Liuyuan Park,
Zhengzhou University,
100 Science Avenue,
Zhengzhou, Henan,
PR China, 450001
It is also important to note some differences when mailing letters from China. If the mail is domestic, the Recipient's Address is written in the upper left hand corner of the envelope, and Recipient's Name is written in the center of the envelope. Sender's Name and Address are written in the lower right corner of the envelope. International standards are accepted for letters sent outside of China. In domestic Mail, the postal code must be written in the red boxes in the top left corner of the envelope to help ensure delivery.
Location of Post Office is available at:
A) China Post, Zhengzhou University Post office, South Building No.5, Teaching Area.
B) Zhengzhou New Developing Zone Post Office, No.4 Dongqing Road. Tel:0371-67983109.
Health and Hospital
Climate - Many students when they first arrive in Zhengzhou suffer from colds, coughs and sore throats until they can get used to their new climate and environment. Part of this is due to the fact that the temperature inZhengzhoucan change drastically from day to day (especially during the winter months). During most of the year the climate inZhengzhouis very dry and dusty. It is therefore very important to keep yourself both warm and hydrated.
Food and Water-Nowadays in Zhengzhou you can eat almost anywhere without having any digestion problems. However, for those with an easily upset stomach, it is advised to choose the places you eat very carefully. It is also advised to avoid street vendor food, at least until you have become accustomed to the local diet. Water from the tap in Zhengzhou is safe for brushing teeth, but it is not advised to drink without first boiling. Tap water is also fine for making both tea and coffee.
Medicine–Chinese pharmacies are easy to find and are very cheap if you are in need of cold or other types of medicine. You can often find many medications that would require a prescription in other countries for sale over-the-counter. If you do not feel comfortable using Chinese medicines or have specific allergies, there are also western pharmacies available that offer most over-the-counter drugs. There is a pharmacy in shopping street. The university hospital also has English speaking doctors an on-site pharmacy if you should find yourself in need of a prescription.
Location of Hospitals available:
A) University Hospital (East to the North Gate, New Campus)
B) No.153 Hospital, Xushui, Zhengshang Road. Tel: 0371-67811800
C) The First Affiliated Hospital of Zhengzhou University,No 1, Jianshe East Road (East Campus). Tel: 0371-66913114
Electricity
Electricity in China is 220 volts. Plugs in most apartments and buildings are both the two pin style (but without the ground wire) and the three angled pin style. Extension cords and surge protectors that fit nearly all style of plugs can be easily found in all supermarkets. If you need power (voltage) converters, however, please bring them with you. They can be difficult to find in China. If you come from a country that uses 110 volt power, please check that your electronics are dual voltage (both 110 and 220 volt compatible). If they are not, you will need to use a power converter.
Internet
Free internet access is available at ZZU in the student lounge. These computers are only for basic internet access, therefore, changes to computer settings and/or downloads are not allowed. Additionally, internet service, for those with computers, is available in each ZZU sponsored apartment. Please let us know when you arrive at ZZU if you will require internet service and we will help you set it up.
It is important that all students recognize Chinese laws and partake in responsible internet use. If any student is found to be using the internet for anything that is unethical or contradicts Chinese law, internet service will be immediately suspended and dismissal from the program may be possible.
Laundry
All apartments and Home Stay accommodation options have a washing machine and a place for line drying clothes. Clothes dryers are not typically available in China. Additionally, there are several inexpensive professional laundry and dry cleaning services around ZZU and the private apartment complexes.
Phones
Landline Phones All accommodation options are equipped with a landline phone for making local calls (by request only for apartments). Students wishing to make international phone calls from their landline phones will need to purchase an IP Card. IP Cards can be bought almost anywhere, including the small convenience markets around the apartment complexes. The selling price of an IP Card is usually about half of the card's face value (e.g. 100 RMB card generally sells for around 40 RMB). We recommend using Skype for making international calls as it is the most convenient and inexpensive method.
Mobile Phones – Most students select to purchase a mobile phone and phone number when they arrive in China. If you have an international compatible phone, you can just purchase a phone number (SIM card). If you do not currently have a compatible phone, phones can easily be purchased for between 500-3000 RMB. Monthly service subscriptions are not needed when signing up for mobile phone service. Both Chinese mobile phone operators use the pre-paid billing method, where you purchase airtime and load it onto the account for your phone number. Cards can be purchased in 50, 100, 300, and 500 RMB denominations. Mobile phone numbers (SIM cards) also need to be purchased. Please be aware that phone numbers with lots of 8's and 6's will be more expensive as they are considered lucky in China; whereas, numbers with lot's of 4's will be less expensive as they are considered unlucky.
Climate
Zhengzhou weather changes drastically from season to season. Summer months are hot and humid with a light rainy season from May to August. Fall is the most comfortable time of the year with mild and cool temperatures. T-shirts, shorts, and other light clothing is the most suitable for summer and fall. Winter temperatures, however, come quickly around late October/early November. Winter temperatures are cold and dry, so dressing in multiple layers is appropriate. December through February may require long-underwear, wool sweaters and down jackets. Spring brings mild temperatures, but strong winds, and dust storms can still make temperatures a bit cold.
Clothing
Spring: Light jackets, jeans, long-sleeve shirts – days can be warmer, while nights may still be a quite cool. Summer: T-shirts, shorts, light pants, summer dresses, and other light clothing. Autumn: T-shirts, long-sleeve shirts, jeans, and jackets or sweaters for the evening. Winter: Long underwear, jeans, long-sleeve shirts, sweaters (preferably wool), down jackets, overcoats, scarves, gloves, and earmuffs or caps. Clothing is both cheap and easy to find in Zhengzhou, so it is advised that you pack light. Anything you will need, for any season, will be readily available.
Fitness
There are many fitness centers to choose from in the area near ZZU. The quality is generally up-to-par or superior to Western standards, however, the price is usually more than you would expect to pay. Keep in the mind that prices will decrease per month if you buy a longer membership.
Toilets
Most new and modern buildings in Zhengzhou use sitting toilets, the most common are still equipped with squat toilets. This is especially true once you get a little outside ofZhengzhou. Toilet paper is not often available in public restrooms, so it is advised that you carry some with you at all times. Also, squat toilets are not designed to dispose of toilet paper like sitting toilets, so to avoid problems please use the garbage bin beside the toilet and do not flush the paper.